This location has closed.
Category:
Profile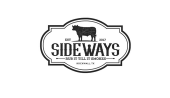 Sideways is a local family BBQ restaurant located on The Harbor in Rockwall, Texas, owned by Josh Deaton and Jeff Cassar. Josh started off cooking in his backyard, eventually competing and winning in BBQ Competitions. Jeff had an 11-year coaching career in the Major League Soccer Association and was the USA goalie in the 1996 Olympics. Both Jeff and Josh bring a new entertaining environment to the Rockwall community, that also involves enjoyable food. Weekly entertainment starts Tuesdays with open mic, Wednesdays are karaoke nights and Thursday-Saturday acoustic shows or live bands.
Like our Facebook page for more information on shows and dates. See y'all soon!!
Let this restaurant know you found them on D Magazine's Online Directories.