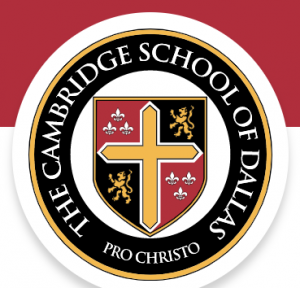 About The Cambridge School of Dallas
The Cambridge School of Dallas is a private Christ-centered, classical, college preparatory school accredited by the Southern Association of Colleges and Schools (SACS). Among its professional memberships are the College Board, Association of Classical Christian Schools, and the Educational Records Bureau. The School is not affiliated with a church or denomination.
Cambridge students take an average of 6.25 AP courses, with a 72% pass rate on AP exams in 19 different subjects. Universities across the country recognize that Cambridge students are well prepared for the college classroom. Our students receive credit for numerous college courses in our high school curriculum. In the last 8 years, Cambridge has produced 28 AP National Scholars, 70 AP Scholars with Distinction, 26 AP Scholars with Honor, 72 AP Scholars, 17 National Merit Finalists (1 SemiFinalist), 24 National Merit Commendations, 4 National Hispanic Recognitions, and 2 National Merit Achievement Recognitions.
Cambridge specializes in finding the right college match for our students by allowing them opportunities for exposure to many colleges throughout the United States via college trips, fairs, and visiting reps. The Director of College Placement and entire faculty work closely with students to help them make wise decisions about where they will continue to flourish in their post-secondary education. Last year's graduating class received merit-based scholarships totaling $1,106,550 million (average of $123,000 per senior).
Cambridge has a 6:1 student-to-faculty ratio, and the training students receive under our teaching faculty is truly singular. 40% of faculty members have earned their doctoral degrees or will soon be awarded this honor. In addition, many of our teachers have taught at the university level. The School employs faculty members who have a thorough knowledge and mastery of their subjects, a demonstrated ability to convey that knowledge effectively to students, an ability to connect and communicate with adolescents, and a willingness to disciple others. Take a look at Cambridge's faculty and staff.
View the School's 2019-20 profile.